Posts Categorized in 'People'
Over the past few years, I've been blessed to have a career I'm passionate about.   It's easy to get out of bed in the morning knowing that the day's work involved making my corner of the world better for biking.  As the bike planner for Baltimore City, a consultant with McCormick Taylor focusing on bicycle infrastructure and now as the Executive Director of Bike Maryland, it has been my privilege to not only improve biking conditions but also be part of the Maryland cycling community, both on and off road.
The B'more Bikes blog has been my project over the past few years.  First started as an innovative marketing tool for the Baltimore City Department of Transportation by my friend and co-conspirator Paul Day, I used the blog to publicize biking news, promote community events, and registration for Bike to Work Day and Bike Counts.   After a 'no blogs allowed' rule was set in place at the municipal government, I continued the blog on my own dime and opened it up to contributors.
Now I'm with Bike Maryland which has its own online presence.  Instead of reposts, retweets and double Facebook posts, I will now be posting at Bike Maryland and officially signing off of B'more Bikes.  (You can still follow me on Twitter).  If you haven't noticed, the Bike Maryland website and Facebook page are updated frequently.  Please check it out as there's a TON of stuff in the works.  I'm truly excited for the work that lies ahead at Bike Maryland.  (I won't hold you in suspense, go check it out over there).
Many thanks to all of you who've followed along here, offered your comments and helped me do my job better.  This blog would not be possible without the knowledge, support and guidance of Mr. Paul Day! I am indebted to you sir. (The Honey Badger Don't Care!)
See y'all out there ridin'!
Nate
Last Thursday, Emily and I visited Western Maryland to meet local bike advocates and support the city's plan for bike lanes.  The City of Cumberland's engineer and project manager John DiFonzo requested Bike Maryland's attendance at a community meeting to share the benefits of improved bicycle infrastructure.  We gladly took this opportunity, not only to support the city, but also to meet with those who will be using the bike lanes most frequently.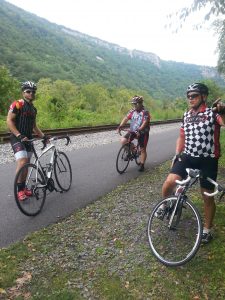 After a brief visits to Bike 123 in Mt. Airy and the Bicycle Escape in Frederick, we arrived at the Cumberland Trail Connection.  This bike shop is strategically located at the junction of the C&O Canal Towpath and the Great Allegheny Passage Trail, which combine to make one of the longest continuous bike paths in the nation.  From here, we took a bike tour of Cumberland hosted by Brett, Jack and Larry.  Heading north from downtown, we took Frederick Street where the new bike lanes are planned.  This uphill section of road with two vehicular travel lanes planned to convert the the right hand lane to a bicycle travel lane.  From here, we meandered along quiet roads until returning towards town via Bedford Street.  Bedford, the southbound couplet to northbound Frederick, was a few feet too narrow to have a designated bike lane.  After a little climbing, (and acclimating to the elevation), the downhill glide into town allowed for pacing with motorized traffic.  Back in town, Jack, Brett & Larry (pictured above) showed us some other bicycle related improvements they'd like to see including a rehabilitated bridge to the GAP into north Cumberland, a BMX/Skate park and mountain bike trails in Constitution Park.
The evening's community meeting was well attended by many concerned citizens both for and against the planned bicycle improvements.  The bike lane project is funded by a Maryland Department of Transportation Bikeways Grant, which has funded other bike projects across the state.  The arguments against the bike lanes were the same heard in communities across Maryland, the United States and the world:  "Why make improvements for a handful of cyclists?", "We're not ready for bike lanes yet" "I'm a bicyclist, but…."  The two hour, standing room only meeting was well moderated by John DiFonzo who allowed everyone to offer their opinion and raise questions.  By the meetings end, not everyone was on board with the changes, but many fears and concerns were allayed.  While many local cyclists attended to support the bike lane project, the comment that stuck with me afterwards came from Mrs. Hutcherson:  "I want Cumberland to be a bike friendly community!"  Cumberland has benefited economically from the the C&O/GAP tourist traffic, and now it is time for bicycling infrastructure that supports residents as well. While Bike Maryland has traditionally supported bicycle projects in central Maryland, we will now become more active in all Maryland regions; supporting any bicycle program or infrastructure that gets more people on bikes, more safely, more often.  It was my pleasure to visit Cumberland and support the Western Maryland Wheelman in their mission.
Whether OC, Bethany, Dewey or Rehobeth, going 'down the ocean' is a summertime ritual for most Baltimoreans.  Having the cool waves of the Atlantic within a day's reach is something we take for granted.  The open expanse of water, strands of sand and the neon-infused development right there on the other side of the bay.  To reach the beach, it takes a couple hours in the car, dealing with traffic at The Bridge, slow downs in Easton, Cambridge and West OC.  Nothing major.  So, why would ANYONE want to ride their bike to the ocean when you could drive.  Life is a journey, made up of many journeys, which can either build us or break us.  To choose to make a journey, rather than a trip, requires a deeper reach and a personal challenge.  So, that's exactly what we did.
A couple years back, I did this trip with Carfree as a two day spree, camping half way, fully loaded with gear.  But this time was different:  A one-day trip from the Baltimore Burbs to Bethany Beach.  I had this crazy idea not long after the first journey.  Good thing I have crazier friends to join this wild ride.  Dup was in!  He had a week at Bethany lined up, so we planned our trip with a hard date in mind.  The planning was easy with help from Routemeister Bob.  The training: Do a century the weekend before to work out the kinks.  To scratch more off the Bucket List, we did a century plus on DC's trail system linking Northwest, Paint Branch, Sligo, Rock Creek, Mt. Vernon, Woodrow Wilson, Nat Harbor and back up Anacostia.
The morning came too early and we rolled out at 5:30.  Oh wait, someone forgot their helmet.  We rolled out again down a quiet Harford Road at 6 am.  Passed what could have been some Bike Party stragglers with chopper handlebars at Gorsuch and cruised around a shimmering Inner Harbor.  Down Annapolis Rd, we were cutting easier trail miles with road bikes.  No Aviation Velo ride this morning, we continued down the B&A with a shot of coffee and dense peanut butter rice crispy treats at The Big Bean and onto to get our lift over the Chesapeake.  46 miles done by 9:20 am.  Time to hydrate and hydrate again while buzzards and ospreys dueled overhead.
Back of the white cargo van, we stashed our bikes for our lift and restarted at the Shore Stop in Stevensville.  Reload on liquids and follow the Cross Island Trail (because its beautiful) to the Kent Narrows and then some country roads.  Route 18 gets tight in spots, but not too bad on a Saturday morning.  Instead of rolling the dice at the U.S. 50 crossing, we opted for some minor rough pavement to MD 213.  Traffic was backing up through here so riding conditions weren't bad.  One block off 50 and the quiet was noticeable.  Here we could double up and actually converse.  Very few cars passed us on these roads.
Hey, we'd all these cyclists come from?  They were all numbered so it had to be the Two Rivers Century.  Sure enough, the riders got dense at Tuckahoe with a a few lost on the other side.  Passing through  beautiful Ridgeley, we grabbed lunch in Greensboro, reloaded on liquids and headed for Delaware, where we traded routes and stories with three loaded cyclists that were headed for a nearby campground.
This was the part where the journey's length could be felt;  the heat of the day, the lack of seat padding.  Pressing on was easy knowing that a Royal Farms was never far away.  Crank after crank, we followed our route and the mysterious F100 and B2B.  Only twice did we have cars come too close.  You're either drinking or texting.  Either way, put it down! (and stop kicking up shoulder dust when you can't stay on the road)
Bridgeville, Georgetown, Millsboro and Dagsboro all passed.  The road under construction put some drivers closer who were derogatorily complementary, but the end was near.  We passed one my cyclist on a beach cruiser with a beer in hand. (His buddy owed him that much.) We gladly took the bike lanes to the sands and salt water with the goal complete.  This journey ended bayside, stretching legs, locking bikes and high fives.  14+ hours, 146 miles down.  Good roll, Dup! 
Early voting opened yesterday in Maryland for the 2014 primary election. Primary election voting closes on Tuesday, June 24 to determine which candidate will represent their party in the general election to be held in November. Being a mid-term election, no presidential elections (and in this case Maryland U.S. Senators) are held, but other important offices are up for election including Governor, U.S. House of Representatives, the Maryland General Assembly (state senators and delegates) as well as Baltimore County Executive and Council.
In April, I invited candidates to share their views on bicycling in and around Baltimore through an online survey. Candidates, or their staff, had until the close of Bike Month, May 31st to complete the survey. As promised, those survey results are ready. While other offices, such as Attorney General, Comptroller, Sheriff and judges are open for election, the focus was on the executive and legislative races as these offices have a greater impact on biking conditions.
Of all 216 eligible candidates, 79 took the survey. That's a 37% response rate. While there were only 6 mandatory questions, most completed the survey of 21 questions. Only one candidate for Governor, Anthony Brown, completed the survey.
Click here for the 2014 Baltimore Area Candidates Survey Results
Reading the Results:
To offer a side by side comparison, the survey results are available as a MicroSoft Excel spreadsheet (*.xls)
Each office is broken out by different tabs visible at the bottom of the sheet (Governor, U.S. House of Reps, State Senate, House of Delegates, Baltimore County Executive and Baltimore County Council)
Across the top of each tab, the survey questions are listed in bold. A list of multiple choice answers are located on the 2nd row in italics. Where multiple choices questions offered "Select All That Apply" answers, these answers are grouped together with borders.
On each tab, candidates are groups by their district. Scroll down through each tabs to see the candidates who have responded. Candidates who did not participate are listed at the bottom of each tab. There are many bike friendly candidates who did not participate.
These survey results are for your use in helping share candidate's views on bicycling. The survey will possibly be available  for the General Election in November. This blog currently does not endorse any particular candidate or party but provides this information as a service to the biking community.
Other interesting stats produced from survey responses:
and coming soon:  BIKESHARE by Bcycle and Bicycle Transit Systems
Thanks to the Mayor's Office of Transportation and Utilities
& Bicycle Coalition of Greater Philadelphia for the guide
Over the past two years, the Baltimore County Pedestrian & Bicycle Advisory Committee (PBAC) has made an effort to make the county a more walkable and bikeable community.  The committee is comprised of councilmatic citizen appointees as well as county agencies representatives from the Office of Planning and Departments of Public Works, Recreation & Parks and Health.  Created through legislation sponsored by Councilmen David Marks and Tom Quirk, the committee was instrumental in drafting the county's Complete Streets policy, which recently won praise from Smart Growth America as one of the Top 10 CS policies of 2013.
Unfortunately, this has been the culmination of the committee's success.  In recent months, the citizen appointees of the committee has faced a major stonewall from county officials.
At the March 11th meeting, the committee heard from the State Highway Administration on how the county could utilize state funds and services to create sidewalks, bicycle infrastructure and trails.  In priority funding areas, which cover most of the county inside the URDL, the only obligation for these projects was post-construction maintenance and to provide public notice of the projects.  Instead of taking the advantage of this opportunity, county officials offered only excuses as to why this could not be done.  Meanwhile, other jurisdictions like Montgomery County are developing world-class transportation trail systems with these same funds.
Following the March 11th committee meeting, the second public input meeting was held to hear what projects citizens would like to see implemented. Other suggestions were submitted to the county before and after the meeting.  The list of projects offered by Baltimore County residents included:
The Star Spangled Banner Trail through North Point
A Transportation Trail Master Plan which included the Torrey C. Brown/Northern Central Railroad Trail connection to the Jones Falls Trail, Greenspring Valley Railroad Trail, Maryland & Pennsylvania (Ma & Pa) Railroad Trail and the Gwynns Falls Trail connection to the BWI Trail.
County support for the preservation of an I-70 overpass at W Forest Park Avenue for the Gwynns Falls Trail to connect to the future Red Line Station
A feasibility study for a tunnel under Bloomsbury Avenue for the Catonsville Short Line Trail
The Towson Bike Loop "Spokes" project which would add bike lanes and signed routes radiating from the Towson Bike Loop.  The original Towson Bike Loop, adding bike lanes and routes to roads around Towson is due for construction in June.
The project which garnered the most support was the Northeast Trail.  The Northeast Trail has been on the county's drafting tables for nearly a decade.  This trail, which parallels Perry Hall Blvd from Silver Spring Road to Lillian Holt Drive, the follows the BG&E right-of-way to Herring Run, has the support of every city and county community association along the proposed alignment.
The April 22nd PBAC committee meeting featured the Office of Planning's report on which projects to support.  The list of supported projects was developed by the Office of Planning after discussions with the Department of Public Works, which oversees roadway improvements and the County Executive's office.  Of all the improvements offered by the community, only two were selected:
Adding countdown pedestrian signals to some intersections of Bosley Avenue
500' of sidewalk on Rolling Road in Catonsville
All other recommendations have been delayed indefinitely! The most startling indication of the county's indifference to bicycle projects was the deferment of the Towson "Spokes" plan.   This project, which included road diets and utilizing excess pavement for bike lanes, was deferred due to the development taking place in and around Towson.  The county wanted to see how vehicular traffic would be affected by these improvements BEFORE adding any bicycle improvements.  By this inaction, the county is resigned to plan for more car traffic by NOT planning for or encouraging bicycle, pedestrian or transit traffic.
Citizen members of the committee were visibly agitated by the county's decision.  Carol Silldorff, executive director of Bike Maryland, was first to express her frustration.  "This is not enough!  Baltimore County needs to support more of these projects as we're falling farther behind other progressive communities."
Kathy Schlabach  from the Office of Planning answered by stating, "There's no budget for these projects.  The County Executive wants to put every available dollar towards schools."
When asked who was staffing the bicycle program, Ms. Schlabach indicated she was the only staff and only at a fraction of her time.  She also indicated that there was ZERO LOCAL FUNDING FOR BIKE PROJECTS! The Maryland Department of Transportation's Bikeways Program and the Transportation Alternatives Program could potentially fund the vast majority of the projects suggested, especially if the available state and federal funding was combined to have state funds match the federal funds. However, for almost any project, the county would need to put up at least some local funding as a match and to devote some staff time to project coordination and outreach. Failing to do so leaves available money on the table for projects that have clear public support.
Ms. Silldorff also asked what else could be done for the county to support these projects.  Ms. Schlabach replied for committee members and the public to contact their council representatives to help fund these projects.
Laura Cook, the county executive's appointee at large, made a motion to send a letter to the executive's office asking for a budget item of $100,000 and a staff position to support these projects.  Committee members debated on the exact amount from less than $100,000 to $500,000.  Where other communities are dedicating millions of dollars a year toward improving walking and biking projects, Baltimore County squabbles over pennies.
5th District PBAC representative Allysha Lorber offered to produce a list of what other counties and jurisdictions are spending on bicycle & trail projects.  Ms. Schlabach then offered to take on that project and report to the committee at the next meeting in the fall.  Both Ms. Silldorff and Ms. Cook stated that the fall was too long to wait for these numbers.  Ultimately, the committee postponed the motion to wait on the report at September's meeting.
Other ways the county is showing resistance to the national bicycle movement:
Baltimore County remains the only Maryland jurisdiction NOT to have the East Coast Greenway signed.  Some portions of the route are signed on the Torrey C. Brown/NCR Trail, but not the on-road section between Paper Mill Road and the city line.
No Bikes Allowed signs are popping up at Robert E. Lee Park
Baltimore County will not support any trail projects along the proposed Red Line improvements, even though it would connect two regional trail systems: Gwynns Falls Trail & Patapsco Valley State Park
The Baltimore Bike Experience, an after-school bicycle mechanic program program that we run at Digital Harbor High School in Baltimore by Bikemore.   In this program, high school students are given all the tools they need to ride a bicycle or become a bicycle mechanic. In fact, one of the students, Andre,has been  hired part-time at Race Pace Bicycles in Federal Hill!
With donated old bikes, students are taught the mechanics of a bicycle and how to ride safely on the road, then given a helmet, lights, a lock, and the bicycle that they worked on in class. The students are incredibly enthusiastic and committed and given a safe and positive place to be after school one day per week.  For most students Baltimore Bike Experience is a chance to learn real skills to use for fun, fitness, transportation, and EMPLOYMENT!
Support the Baltimore Bike Experience online here
On a bitterly cold January evening in Lauraville, a group of trail enthusiasts got together to discuss how to make the Herring Run Trail much more than what it currently is. Trading ideas while huddled over maps, everyone involved brought a special skill to the meeting: a cartographer, a right-of-way specialist, a trail loving parks employee, a bike blazer, a trail development specialist, a bike shop owner, a bicycle planner, a university community liaison, bike advocates and avid hikers. Everyone also had personal knowledge of the Herring Run stream valley – what's there and more importantly, what could be there. Before the evening was over, the next steps to creating a world class urban trail system along the Herring Run were set.
Step 1: Go for a hike! On a similarly bitterly cold January morning, the first group of adventurers met at the corner of Herring Run Drive and Echodale Avenue. The morning's plan was to hike or bushwack downstream to East Cold Spring Lane and determine where a trail could be developed. Heading south along the west bank, we passed through a ball field, then entered the woods where the deer and local kids blazed a thin trail which crosses a joining stream with an equally thin boardwalk. Running up against steep bank, we crossed to the east side and found a myriad of trails extending downstream to the Chinquapin Run confluence.
Step 2: Document that hike! The advent of GPS has made mapping hikes a breeze! Simply turn on Google's "My Tracks" and walk. With a little cartographic magic, next thing you know, you can see your map in Google Earth. Add a few waypoints and some field notes and you're almost ready to present it to Baltimore City Recreation and Parks. (But wait, there's more) Field notes can include anything that would help or hinder the creation of a sustainable trail system; whether it be noted trail re-routes, brush removal and most importantly, trash removal. Being an urban park, many local residents believe the park to be their personal dumping ground. Such is not the case and needs to be remedied in many areas.
Step 3: Go for another hike and document THAT hike! While the hike from Echodale to Cold Spring was the first hike, it certainly wasn't the last hike. Since then, similar expeditions have occurred
along the length of Chinquapin Run from Herring Run at Morgan State University to Northern Parkway
Along Herring Run from Echodale, under Northern Parkway, around Mount Pleasant Golf Course
Along the streams and woods that surround Mount Pleasant Gold Course
The southern wildlands of Herring Run between Sinclair Lane and Pulaski Highway
Points of interest discovered along the way:
A million golf balls in the stream channel downstream from Mt. Pleasant
A bottle refund is desperately needed in Maryland. For those interested in cashing in on easy recycling, hike the Herring Run!
Beautiful graffiti under bridges and in culverts
A cave within view of Perring Parkway next to a flowing waterfall
Fox dens around Mount Pleasant
Many rusted bike and car hulks, some in the trees.
Deep swimming holes and rocks that would be awesome for a summertime picnic (pending results of a water test)
Reforested lands once carved by man and water which would make fun riding for BMX & mountain bikes
Step 4: Present at the Baltimore City Trail Summit! It was determined early on the Trail Summit would be the perfect opportunity to share this endeavor with the public. What started out as a living room full of visionaries quickly expanded with enthusiastic volunteers wanting to be a part of this big project. There is no shortage of work to be done and many hands make light work.
View the HERRING RUN TRAIL NETWORK presentation from the Baltimore City Trail Summit
Step 5: Meet with the Friends of Herring Run Parks As this truly is a community project, bring in the stewards of the parks on Monday, May 19th.
Step 6: Repeat Steps 1, 2 & 3 There are many sections of the Herring Run watershed to explore. Future hikes include
a revisit to the west side of Mt. Pleasant,
hiking up Overbrook Run into Towson
exploring connections to the Herring Run between Taylor Avenue and Putty Hill Avenue
downstream exploration from Pulaski Highway to the head of Back River, where a future kayak launch would serve as an epic southern trail terminus
If you want to get in on this, the next hike is this Sunday, April 6th starting at 9:30 am from the Orangeville Community Park (Eager & Janney Sts) to explore the "Highlandtown High Line" – a (should be) abandoned rail line from Bayview to Canton.  (Yes, even this section is fair game for a potential trail connecting to the Herring Run)
Contributed by Greg Hinchliffe
In 2010, District 1 Baltimore City Councilman Jim Kraft approached the Department of Transportation to develop a plan addressing the increasing transportation demands in southeast Baltimore.  Rather than looking exclusively at a 'parking plan' to increase on-street parking availability, DOT began an extensive traffic analysis and community input process to develop the Southeast Baltimore Complete Streets Master Plan (CSMP).  The Complete Streets Plan not only looked at opportunities to provide reverse-angled parking, but also bike lanes, cycletracks, pedestrian improvements and reallocating pavement space for public parks.
By taking both a block-by-block and corridor-based approach, each street evaluation balanced residential preference with how the street functioned within the entire street network. After its completion, the Southeast Baltimore Complete Streets Master Plan received positive reviews from city agencies, neighborhood leaders and residents.  Since then however, none of the recommendations in the plan have been implemented.  Despite crafting the master plan, Department of Transportation ignored the recommendations and continued accommodating city streets only for automobile traffic and parking.
The first bike infrastructure casualty of auto proliferation and parking was on Bank Street in Highlandtown, an integral part of the signed "Greektown Bike Route", which acts as a bike boulevard-style passage from Haven Street in the east to Central Avenue in Little Italy, in conjunction with paths through Patterson Park.  To complete this route, the Departments of Recreation and Parks and Transportation collaborated to construct a path within Patterson Park, connecting an existing park path to Bank Street and Ellwood Street.  This designated bike route proved to be very popular with neighborhood cyclists, yet it and the proposed traffic calming improvements in the CSMP were ignored in favor of installing reverse angle parking.   DOT's Traffic Division, which oversees all traffic patterns, pavement markings and signal operations, implemented the reverse angle parking without consulting other DOT Divisions, including the city's bicycle planner, making a portion of the route unusable. Fortunately, the bicycle planner was able to modify the route to restore continuity, although the new route is less direct and convenient.
This pattern of auto proliferation continued with the eradication of another bike boulevard-type signed route in Canton:  Fait Avenue, which is a vital link in the "Brewers Hill Bike Route".  Like Bank Street, Fait Avenue was converted from a two-way bike boulevard to a one-way reverse parking corridor.  The two way bike route abruptly stops without any bicycle wayfinding signs.  Again, the route can be modified to restore continuity, but this has not occurred to date, leaving a confusing and possibly unsafe situation.
In a November 14th, 2013 letter, Councilman Kraft has called for a 'new' southeast traffic study.  Even though the CSMP accounted for all planned developments in the area including Harbor Point and Canton Crossing, Mr. Kraft is calling for a new traffic study and widening Boston Street to accommodate automobile traffic. No mention is made of accommodating bicycle traffic.  A true Complete Streets vision of Boston Street is planned to coincide with Red Line improvements, but that project will not be complete for almost a decade.  Pressuring City Hall to bump up the widening of Boston Street without any accommodation of bicyclists threatens the intent of the CSMP to make what could be most bikeable area of the city into the least hospitable environment for bikes.
As the average rowhome in Southeast Baltimore is typically narrower than the length of an automobile, accommodating every household with on-street parking for one or more vehicles is an unattainable goal.  Similarly, we just do not have enough roadway to accommodate moving every citizen of the city and its suburbs in single occupancy motor vehicles. Providing for more walkable, bikeable and transit friendly communities is essential, and can only be achieved after the elected officials and DOT staff understand this basic spatial analysis.
Any further "improvements" to Southeast Baltimore to increase traffic flow or parking must include provision for through and local bicycling, as required by the Complete Streets Policy and Bicycle Master Plan, both of which have been enacted by the City Council and signed by the Mayor. At the least, the loss of bicycle accommodation to increase traffic flow or parking must stop.  Anything else is a disservice to the present and future citizens of Baltimore.
Greg Hinchliffe is a long-time Baltimore bike pest, former chair of the Mayor's Bicycle Advisory Committee and active member of the East Coast Greenway Alliance.  In other words, Greg's got serious bike-cred!
The views and opinions on this website are those of the author and not of the City of Baltimore or the Department of Transportation. For official Baltimore City DOT news, please
visit this page
.