Posts Categorized in 'Infrastructure'
Last Thursday, Emily and I visited Western Maryland to meet local bike advocates and support the city's plan for bike lanes.  The City of Cumberland's engineer and project manager John DiFonzo requested Bike Maryland's attendance at a community meeting to share the benefits of improved bicycle infrastructure.  We gladly took this opportunity, not only to support the city, but also to meet with those who will be using the bike lanes most frequently.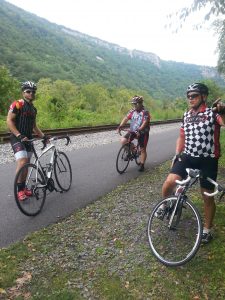 After a brief visits to Bike 123 in Mt. Airy and the Bicycle Escape in Frederick, we arrived at the Cumberland Trail Connection.  This bike shop is strategically located at the junction of the C&O Canal Towpath and the Great Allegheny Passage Trail, which combine to make one of the longest continuous bike paths in the nation.  From here, we took a bike tour of Cumberland hosted by Brett, Jack and Larry.  Heading north from downtown, we took Frederick Street where the new bike lanes are planned.  This uphill section of road with two vehicular travel lanes planned to convert the the right hand lane to a bicycle travel lane.  From here, we meandered along quiet roads until returning towards town via Bedford Street.  Bedford, the southbound couplet to northbound Frederick, was a few feet too narrow to have a designated bike lane.  After a little climbing, (and acclimating to the elevation), the downhill glide into town allowed for pacing with motorized traffic.  Back in town, Jack, Brett & Larry (pictured above) showed us some other bicycle related improvements they'd like to see including a rehabilitated bridge to the GAP into north Cumberland, a BMX/Skate park and mountain bike trails in Constitution Park.
The evening's community meeting was well attended by many concerned citizens both for and against the planned bicycle improvements.  The bike lane project is funded by a Maryland Department of Transportation Bikeways Grant, which has funded other bike projects across the state.  The arguments against the bike lanes were the same heard in communities across Maryland, the United States and the world:  "Why make improvements for a handful of cyclists?", "We're not ready for bike lanes yet" "I'm a bicyclist, but…."  The two hour, standing room only meeting was well moderated by John DiFonzo who allowed everyone to offer their opinion and raise questions.  By the meetings end, not everyone was on board with the changes, but many fears and concerns were allayed.  While many local cyclists attended to support the bike lane project, the comment that stuck with me afterwards came from Mrs. Hutcherson:  "I want Cumberland to be a bike friendly community!"  Cumberland has benefited economically from the the C&O/GAP tourist traffic, and now it is time for bicycling infrastructure that supports residents as well. While Bike Maryland has traditionally supported bicycle projects in central Maryland, we will now become more active in all Maryland regions; supporting any bicycle program or infrastructure that gets more people on bikes, more safely, more often.  It was my pleasure to visit Cumberland and support the Western Maryland Wheelman in their mission.
According to Fifth District Councilman David Marks' newsletter:
The initial stage of the Towson Bike Loop will open later this summer. Funding has been secured for 8.7 miles of the network, which will involve dedicated bike lanes and signage throughout Greater Towson. Councilman Marks believes that increased bike use, better pedestrian connections, and a circulator are essential as Downtown Towson prepares for future growth.  
and coming soon:  BIKESHARE by Bcycle and Bicycle Transit Systems
Thanks to the Mayor's Office of Transportation and Utilities
& Bicycle Coalition of Greater Philadelphia for the guide
Contributed by Greg Hinchliffe
In 2010, District 1 Baltimore City Councilman Jim Kraft approached the Department of Transportation to develop a plan addressing the increasing transportation demands in southeast Baltimore.  Rather than looking exclusively at a 'parking plan' to increase on-street parking availability, DOT began an extensive traffic analysis and community input process to develop the Southeast Baltimore Complete Streets Master Plan (CSMP).  The Complete Streets Plan not only looked at opportunities to provide reverse-angled parking, but also bike lanes, cycletracks, pedestrian improvements and reallocating pavement space for public parks.
By taking both a block-by-block and corridor-based approach, each street evaluation balanced residential preference with how the street functioned within the entire street network. After its completion, the Southeast Baltimore Complete Streets Master Plan received positive reviews from city agencies, neighborhood leaders and residents.  Since then however, none of the recommendations in the plan have been implemented.  Despite crafting the master plan, Department of Transportation ignored the recommendations and continued accommodating city streets only for automobile traffic and parking.
The first bike infrastructure casualty of auto proliferation and parking was on Bank Street in Highlandtown, an integral part of the signed "Greektown Bike Route", which acts as a bike boulevard-style passage from Haven Street in the east to Central Avenue in Little Italy, in conjunction with paths through Patterson Park.  To complete this route, the Departments of Recreation and Parks and Transportation collaborated to construct a path within Patterson Park, connecting an existing park path to Bank Street and Ellwood Street.  This designated bike route proved to be very popular with neighborhood cyclists, yet it and the proposed traffic calming improvements in the CSMP were ignored in favor of installing reverse angle parking.   DOT's Traffic Division, which oversees all traffic patterns, pavement markings and signal operations, implemented the reverse angle parking without consulting other DOT Divisions, including the city's bicycle planner, making a portion of the route unusable. Fortunately, the bicycle planner was able to modify the route to restore continuity, although the new route is less direct and convenient.
This pattern of auto proliferation continued with the eradication of another bike boulevard-type signed route in Canton:  Fait Avenue, which is a vital link in the "Brewers Hill Bike Route".  Like Bank Street, Fait Avenue was converted from a two-way bike boulevard to a one-way reverse parking corridor.  The two way bike route abruptly stops without any bicycle wayfinding signs.  Again, the route can be modified to restore continuity, but this has not occurred to date, leaving a confusing and possibly unsafe situation.
In a November 14th, 2013 letter, Councilman Kraft has called for a 'new' southeast traffic study.  Even though the CSMP accounted for all planned developments in the area including Harbor Point and Canton Crossing, Mr. Kraft is calling for a new traffic study and widening Boston Street to accommodate automobile traffic. No mention is made of accommodating bicycle traffic.  A true Complete Streets vision of Boston Street is planned to coincide with Red Line improvements, but that project will not be complete for almost a decade.  Pressuring City Hall to bump up the widening of Boston Street without any accommodation of bicyclists threatens the intent of the CSMP to make what could be most bikeable area of the city into the least hospitable environment for bikes.
As the average rowhome in Southeast Baltimore is typically narrower than the length of an automobile, accommodating every household with on-street parking for one or more vehicles is an unattainable goal.  Similarly, we just do not have enough roadway to accommodate moving every citizen of the city and its suburbs in single occupancy motor vehicles. Providing for more walkable, bikeable and transit friendly communities is essential, and can only be achieved after the elected officials and DOT staff understand this basic spatial analysis.
Any further "improvements" to Southeast Baltimore to increase traffic flow or parking must include provision for through and local bicycling, as required by the Complete Streets Policy and Bicycle Master Plan, both of which have been enacted by the City Council and signed by the Mayor. At the least, the loss of bicycle accommodation to increase traffic flow or parking must stop.  Anything else is a disservice to the present and future citizens of Baltimore.
Greg Hinchliffe is a long-time Baltimore bike pest, former chair of the Mayor's Bicycle Advisory Committee and active member of the East Coast Greenway Alliance.  In other words, Greg's got serious bike-cred!
Tracking preferred bike routes in southeast Baltimore has been a challenge.  Scheduled bike counts at President & Aliceanna, President & Fleet and occasionally at President & Fawn/Eastern did not reveal any higher than average traffic numbers indicating a preferred route entering downtown from Fells Point, Canton or points east.  Online and in-person surveys also did not assist which corridor was preferred.  Bank and Gough Streets proved good 'bike boulevard' routes, but only for through bike traffic heading to Butcher's Hill or Highlandtown.
The advent of Strava has shed light on this mystery! Strava is generally used by more seasoned riders  who like to track their riding statistics.  Seasoned riders tend to be the 1%ers, brave and fearless cyclists.  By reviewing Strava's Race Shape heat map, a good base for where people are riding emerges.  Given that premise, the below map illustrates that Fleet Street (in dark blue) is used more as a bike route well into Canton, than Aliceanna Street or Eastern Avenue.  Even as Aliceanna Street is marked as a bike route, along with Fait Avenue, there's more bike traffic on Fleet and President Streets.
With Fleet Street being the preferred east/west bike route from the Inner Harbor through Fells Point and into Canton,  a few options are available for improved bicycle infrastructure.
Option #1 – of course, would to do nothing and add sharrows to the existing lane configuration.
Option #2 - With approximately 42′ of roadway space from curb to curb, adding a bike lane in one direction (likely eastbound) with a shared lane (westbound) would slightly improve bicycle level of comfort.  Adding an inverse lane configuration with a westbound bike lane on Aliceanna or Eastern would be practical.
Option #3 - To centralize bicycle traffic along the Fleet Street corridor, providing more adequate bicycle facilities would be necessary.  To provide two bike lanes along this length, removing on-street parking along one side of the street would be necessary.
Option #4 - If a row of on-street parking was removed to truly increase bicycle level of comfort, providing a bi-directional buffered bike lane would really do the trick.  The buffer could be treated with bollards, landscaping or (like other Baltimore bike improvements) furniture and sculptures. Displaced parking could be accommodated at Canton Crossing or Eastpoint Mall where bikeshare stations or an enhanced transit hub could be established.
Baltimore County's Pedestrian and Bicycle Advisory Committee (PBAC) is seeking community input to help identify the next round of pedestrian and bicycle projects to be targeted for implementation. Members of the public are invited to voice their preferences on which projects to fund at a Citizen Input Meeting to be held:
Tuesday, March 11 at 5 p.m.
Jefferson Building Hearing Room (Room 104)
105 West Chesapeake Avenue
Towson, MD 21204
The PBAC is looking for projects that will provide County citizens with the greatest benefit at the lowest cost, using state, federal, and private grants. Projects should have been recommended by Baltimore County's Eastern and Western Pedestrian and Bicycle Access Plans.
In case you missed Baltimore DOT's presentation of the Downtown Bicycle Network, here's what we're talking about:
The Downtown Bicycle Network public meeting held at the Enoch Pratt Library last night was well attended by cyclists (above) and their bikes (below)
The long-planned Downtown Bike Network for Baltimore will be unveiled next Tuesday, February 4th from 5-7 pm at the Enoch Pratt Central Library on Cathedral Street.   Not only will plans for Baltimore's first cycletrack for Maryland Avenue and Cathedral Street (above) be presented, but also the long awaited connection for the Jones Falls Trail at Madison Street (below).  More details available on the Facebook event page.
The bike lanes on Walther Avenue are almost ready to be extended north.  With lanes in place between Moravia Road and Parkside Drive, this extension will make bike travel more viable.  Unlike the adjacent bike lane project, the installation of these lanes is following a proper sequence of construction.  The parking restrictions on Walther Avenue during the PM rush hour, have been removed for more than a month.  With on-street parking in place, motorists have had a longer time to prepare for the new travel lane allowances.  Next, the bike lane signs were installed to further reinforce the coming improvements.   Now, those parking on Walther are reminded not to park there between December 9th and December 20th for the pavement marking installation.  Looks like cyclists in the northeast are getting an early Christmas present, so long as the weather cooperates.
The views and opinions on this website are those of the author and not of the City of Baltimore or the Department of Transportation. For official Baltimore City DOT news, please
visit this page
.