Over the past few years, I've been blessed to have a career I'm passionate about.   It's easy to get out of bed in the morning knowing that the day's work involved making my corner of the world better for biking.  As the bike planner for Baltimore City, a consultant with McCormick Taylor focusing on bicycle infrastructure and now as the Executive Director of Bike Maryland, it has been my privilege to not only improve biking conditions but also be part of the Maryland cycling community, both on and off road.
The B'more Bikes blog has been my project over the past few years.  First started as an innovative marketing tool for the Baltimore City Department of Transportation by my friend and co-conspirator Paul Day, I used the blog to publicize biking news, promote community events, and registration for Bike to Work Day and Bike Counts.   After a 'no blogs allowed' rule was set in place at the municipal government, I continued the blog on my own dime and opened it up to contributors.
Now I'm with Bike Maryland which has its own online presence.  Instead of reposts, retweets and double Facebook posts, I will now be posting at Bike Maryland and officially signing off of B'more Bikes.  (You can still follow me on Twitter).  If you haven't noticed, the Bike Maryland website and Facebook page are updated frequently.  Please check it out as there's a TON of stuff in the works.  I'm truly excited for the work that lies ahead at Bike Maryland.  (I won't hold you in suspense, go check it out over there).
Many thanks to all of you who've followed along here, offered your comments and helped me do my job better.  This blog would not be possible without the knowledge, support and guidance of Mr. Paul Day! I am indebted to you sir. (The Honey Badger Don't Care!)
See y'all out there ridin'!
Nate
Last Thursday, Emily and I visited Western Maryland to meet local bike advocates and support the city's plan for bike lanes.  The City of Cumberland's engineer and project manager John DiFonzo requested Bike Maryland's attendance at a community meeting to share the benefits of improved bicycle infrastructure.  We gladly took this opportunity, not only to support the city, but also to meet with those who will be using the bike lanes most frequently.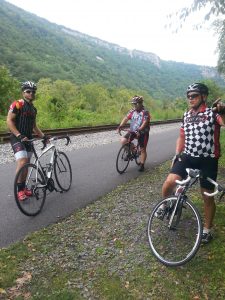 After a brief visits to Bike 123 in Mt. Airy and the Bicycle Escape in Frederick, we arrived at the Cumberland Trail Connection.  This bike shop is strategically located at the junction of the C&O Canal Towpath and the Great Allegheny Passage Trail, which combine to make one of the longest continuous bike paths in the nation.  From here, we took a bike tour of Cumberland hosted by Brett, Jack and Larry.  Heading north from downtown, we took Frederick Street where the new bike lanes are planned.  This uphill section of road with two vehicular travel lanes planned to convert the the right hand lane to a bicycle travel lane.  From here, we meandered along quiet roads until returning towards town via Bedford Street.  Bedford, the southbound couplet to northbound Frederick, was a few feet too narrow to have a designated bike lane.  After a little climbing, (and acclimating to the elevation), the downhill glide into town allowed for pacing with motorized traffic.  Back in town, Jack, Brett & Larry (pictured above) showed us some other bicycle related improvements they'd like to see including a rehabilitated bridge to the GAP into north Cumberland, a BMX/Skate park and mountain bike trails in Constitution Park.
The evening's community meeting was well attended by many concerned citizens both for and against the planned bicycle improvements.  The bike lane project is funded by a Maryland Department of Transportation Bikeways Grant, which has funded other bike projects across the state.  The arguments against the bike lanes were the same heard in communities across Maryland, the United States and the world:  "Why make improvements for a handful of cyclists?", "We're not ready for bike lanes yet" "I'm a bicyclist, but…."  The two hour, standing room only meeting was well moderated by John DiFonzo who allowed everyone to offer their opinion and raise questions.  By the meetings end, not everyone was on board with the changes, but many fears and concerns were allayed.  While many local cyclists attended to support the bike lane project, the comment that stuck with me afterwards came from Mrs. Hutcherson:  "I want Cumberland to be a bike friendly community!"  Cumberland has benefited economically from the the C&O/GAP tourist traffic, and now it is time for bicycling infrastructure that supports residents as well. While Bike Maryland has traditionally supported bicycle projects in central Maryland, we will now become more active in all Maryland regions; supporting any bicycle program or infrastructure that gets more people on bikes, more safely, more often.  It was my pleasure to visit Cumberland and support the Western Maryland Wheelman in their mission.
Due to unforeseen circumstances, Bike Maryland needed to reschedule Tour du Port from September 21st to Sunday, September 28th!  The decision to reschedule was not made lightly.  Bike Maryland strives to plan Tour du Port around other popular bicycle events typically held the same time of year:  the Seagull Century, Tour du Cure, Charm City Cyclocross, BBC's Lancaster Weekend ride to name a few.  While this date move is unfortunate, it was necessary.  For those already registered that can not attend on the 28th, a refund will be granted until Monday, September 1st.
While immediately inconvenient, this date change will work out for the better:
1. The other major Bike Maryland event, Larry's Ride, is still scheduled for Sunday, September 14th!  The two week break between events will allow for better preparation of Tour du Port
2. September 19- 21 was already a busy bike weekend in Baltimore.  Instead of having to choose between Tour du Port, Day 2 of Charm City Cyclocross or pacing yourself at Music to Your Gears, you can now do it all!
3. With an extra week to plan, Bike Maryland can make Tour du Port even better!  With The Gathering, a beer garden and more vendors, this year's Tour du Port will be the biggest yet!
REGISTER FOR TOUR du PORT HERE!
Register for both Tour du Port and Larry's Ride and get a $10 discount on Tour du Port!
Bike Maryland can always use volunteer help.  If you'd like to help out, sign up here
This Friday, the Bike Party rolls through Baltimore starting at St. Mary's Park & ending at the Maryland Historical Society.  Volunteers are still needed to help the event go smoothly.  To assist, email baltimorebikeparty (at) gmail.com
Next Friday, August 1st, the Towson Bike Mosey rides again at 6:30 pm at the corner of Chesapeake and Washington in Towson.  Approximately 8 mile slow-paced ride through Towson (Towson University, Rodgers Forge and Stoneleigh areas) All ages welcome!
What to bring:
A bike (road bike or mountain bike or hybrid all work!)
A helmet
A water bottle
Optional but a good idea to have a light on the front, and a red flashing light on the back. Some will be available for purchase.
The cue sheet at Cue Sheet 140801 Towson Mosey
Bicycle theft is a common occurrence in Baltimore. Factors contributing to this crime rate including poor bike locking techniques and experienced thieves with an arsenal of tools to bust locks.
Baltimore can be challenging city and the Baltimore Police Department certainly has many issues to attend to.  Reported bike thefts to the Baltimore Police Department have averaged 384 thefts a year for the past few years.  These figures do include  the number of stolen bikes not reported.  The climbing theft rate parallels Baltimore's increasing bicycle commuter rate.  This follows the logic that more bikes are on the street, the more are available to be stolen.
In recent weeks, as summer heats up, more bike are being listed as stolen on social media and on posts (like this on to the right).  The frustration of having a bike stolen can be overwhelming.  Even more frustrating is that many recent bike thefts have occurred inside locked homes and garages. 
With more residents choosing to live a car-free (or car-lite) life, the bicycle becomes a main form of transportation; not just a toy as is commonly thought in many segments of society.  When a citizen is unlawfully deprived of their transportation, their livelihood is jeopardized by requiring another less-convenient transportation mode to get to work.  In the Old West, horses were the main mode of transportation.  Those who stole horses were usually executed by hanging, typically on site.  While a bicycle's worth does not monetarily equal a human's worth, there is a matter of personal worth that a bicycle holds in today's urban society.  Nevertheless, those found in possession of a stolen bicycle should face serious consequences as if they had been found in the driver's seat of a stolen car.  (Note:  Car theft in Baltimore City is classified as a misdemeanor, but a felony in Baltimore County.)
A bicycle's personal worth to the owner can not be explained to those who view bicycles as toys.  Until stealing bikes is classified as GRAND THEFT BICYCLE, start or continue to lock your bike responsibly; whether outside or in your own home.
Whether OC, Bethany, Dewey or Rehobeth, going 'down the ocean' is a summertime ritual for most Baltimoreans.  Having the cool waves of the Atlantic within a day's reach is something we take for granted.  The open expanse of water, strands of sand and the neon-infused development right there on the other side of the bay.  To reach the beach, it takes a couple hours in the car, dealing with traffic at The Bridge, slow downs in Easton, Cambridge and West OC.  Nothing major.  So, why would ANYONE want to ride their bike to the ocean when you could drive.  Life is a journey, made up of many journeys, which can either build us or break us.  To choose to make a journey, rather than a trip, requires a deeper reach and a personal challenge.  So, that's exactly what we did.
A couple years back, I did this trip with Carfree as a two day spree, camping half way, fully loaded with gear.  But this time was different:  A one-day trip from the Baltimore Burbs to Bethany Beach.  I had this crazy idea not long after the first journey.  Good thing I have crazier friends to join this wild ride.  Dup was in!  He had a week at Bethany lined up, so we planned our trip with a hard date in mind.  The planning was easy with help from Routemeister Bob.  The training: Do a century the weekend before to work out the kinks.  To scratch more off the Bucket List, we did a century plus on DC's trail system linking Northwest, Paint Branch, Sligo, Rock Creek, Mt. Vernon, Woodrow Wilson, Nat Harbor and back up Anacostia.
The morning came too early and we rolled out at 5:30.  Oh wait, someone forgot their helmet.  We rolled out again down a quiet Harford Road at 6 am.  Passed what could have been some Bike Party stragglers with chopper handlebars at Gorsuch and cruised around a shimmering Inner Harbor.  Down Annapolis Rd, we were cutting easier trail miles with road bikes.  No Aviation Velo ride this morning, we continued down the B&A with a shot of coffee and dense peanut butter rice crispy treats at The Big Bean and onto to get our lift over the Chesapeake.  46 miles done by 9:20 am.  Time to hydrate and hydrate again while buzzards and ospreys dueled overhead.
Back of the white cargo van, we stashed our bikes for our lift and restarted at the Shore Stop in Stevensville.  Reload on liquids and follow the Cross Island Trail (because its beautiful) to the Kent Narrows and then some country roads.  Route 18 gets tight in spots, but not too bad on a Saturday morning.  Instead of rolling the dice at the U.S. 50 crossing, we opted for some minor rough pavement to MD 213.  Traffic was backing up through here so riding conditions weren't bad.  One block off 50 and the quiet was noticeable.  Here we could double up and actually converse.  Very few cars passed us on these roads.
Hey, we'd all these cyclists come from?  They were all numbered so it had to be the Two Rivers Century.  Sure enough, the riders got dense at Tuckahoe with a a few lost on the other side.  Passing through  beautiful Ridgeley, we grabbed lunch in Greensboro, reloaded on liquids and headed for Delaware, where we traded routes and stories with three loaded cyclists that were headed for a nearby campground.
This was the part where the journey's length could be felt;  the heat of the day, the lack of seat padding.  Pressing on was easy knowing that a Royal Farms was never far away.  Crank after crank, we followed our route and the mysterious F100 and B2B.  Only twice did we have cars come too close.  You're either drinking or texting.  Either way, put it down! (and stop kicking up shoulder dust when you can't stay on the road)
Bridgeville, Georgetown, Millsboro and Dagsboro all passed.  The road under construction put some drivers closer who were derogatorily complementary, but the end was near.  We passed one my cyclist on a beach cruiser with a beer in hand. (His buddy owed him that much.) We gladly took the bike lanes to the sands and salt water with the goal complete.  This journey ended bayside, stretching legs, locking bikes and high fives.  14+ hours, 146 miles down.  Good roll, Dup! 
According to Fifth District Councilman David Marks' newsletter:
The initial stage of the Towson Bike Loop will open later this summer. Funding has been secured for 8.7 miles of the network, which will involve dedicated bike lanes and signage throughout Greater Towson. Councilman Marks believes that increased bike use, better pedestrian connections, and a circulator are essential as Downtown Towson prepares for future growth.  
Catonsville Rails To Trails 4th Annual Bike Ride to Fort McHenry
18  miles, 2.5 hrs
Easy paced ride with sweepers
The views and opinions on this website are those of the author and not of the City of Baltimore or the Department of Transportation. For official Baltimore City DOT news, please
visit this page
.